Knowing how useful Google Analytics' 'Goals' feature is to online marketers, we are all dying to use it. But there's little point in using Goals without knowing what functions are affecting what. It's handy to know how to set up each goal type, from Destination to Visit Duration, Page/Visit to Event. Don't know how? Here's a rundown of the basics.
Destination Goal

Our 'Destination' goal lets us know about every instance that a customer visits a certain URL. Here you should put only what comes after the domain in the URL. For example, just the '/blog' part of 'www.greatmarketing.com/blog'. Next, you'll get to choose your Match Type, from between 'Exact Match' and 'Head Match'.
Choosing 'Exact Match' means that only specific URLS, not including query strings and unique IDs, will be tracked. On the other hand, using 'Head Match' lets you track visits whether or not something follows the URL. Under this, the 'Case Sensitive' box can be checked. Do this if changing the case (upper or lower) of characters in the URL directs to different places.
Otherwise, and usually, you won't need to check this one. Goal funnels help you monitor your customers journey and points of abandonment, limited to 10 steps. These steps are only to be used for paths with a limited structure such as Shopping Cart down to Payment.
If you need visitors to your path to begin from a certain 'step 1', so to speak, check 'Required Steps'. With this unchecked, visitors in the funnel will be tracked even if they start from the middle of the path.
Duration Goal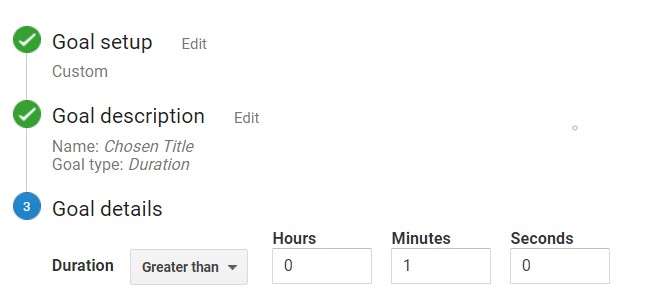 Our 'Duration' goals are essentially timing our customers visits. First, you'll need to set up your 'Condition'. Depending on what you're trying to measure, you'll select either 'greater than' or 'less than' the time set.
Use 'greater than' to measure engagement; the goal is fired if visitors exceed the visitation time you set. Use 'less than' to measure how efficiently your page delivers wanted information to visitors. Neil Patel suggests picking a time that some but not all can reach, to make things to improve on stand out.
Page/Screen Per Session Goal

The 'Page/Screens per session' goal, a tad less commonly used, tells us how many pages visitors looked at before leaving. Similar to Visit Duration goals, Page/Screens per session goal set ups include a 'condition' selection of 'greater than' or 'less than'.
They generally follow the same measurement purposes as in Visit Duration. However, this time your limit is of the number of pages that activate it. Enter this number into the box labelled 'Number of pages visited'.
Event Goal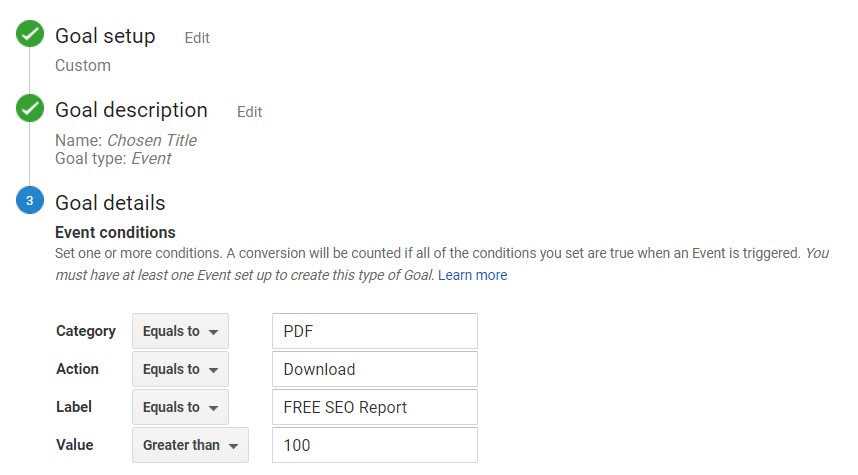 Last, but surely not least, Event goals let you keep on more complex parts of visitor interaction, such as video plays and clicks. They occur independent of page loads so destination can't be a trigger. You will actually need to set up events externally for GA to recognise them.
Google's Event Tracking Guide may be useful for an intensely detailed explanation on setting events up. You will need to add code snippets to elements you want to track, as also explained by Search Engine Watch.
Under 'Goal Details', you'll need to fill in 'Category', 'Action' and 'Label'. Single Grain describes 'Category' as "the object interacted with", be that a video or PDF. 'Action' is described as the required interaction, e.g. play, download. Thirdly, 'Label' is for categorising the events e.g 'Project X', but is ultimately optional. There is one more optional component, however, and that is 'Values'.
To sum it all up
Common to all goal types is the option to set up 'Values'. You have the option to assign values to all goal types. This just means the monetary value to your company for each goal completion. This section will always be entered as an integer value.
TrackMaven explains that for e-commerce values, your average sale price is the worth of a goal completion. In terms of form completions, take the percentage of people who make a purchase after completing a form. Multiply it by the average sales price for the value.
You have the option of turning off the "Recording" button so as to stop receiving data on a goal. Remember, not all information is useful to you – don't fret about things of no benefit to your company. A consultation with a web marketer could be extremely beneficial, considering how complex some aspects are.
532m is Sydney's leading growth marketing specialists and one of the pioneers of SEO services in Australia. To help you get started ranking in search engines, download your FREE SEO Audit.
Fill out the form below for an obligation-free consultation with our experts